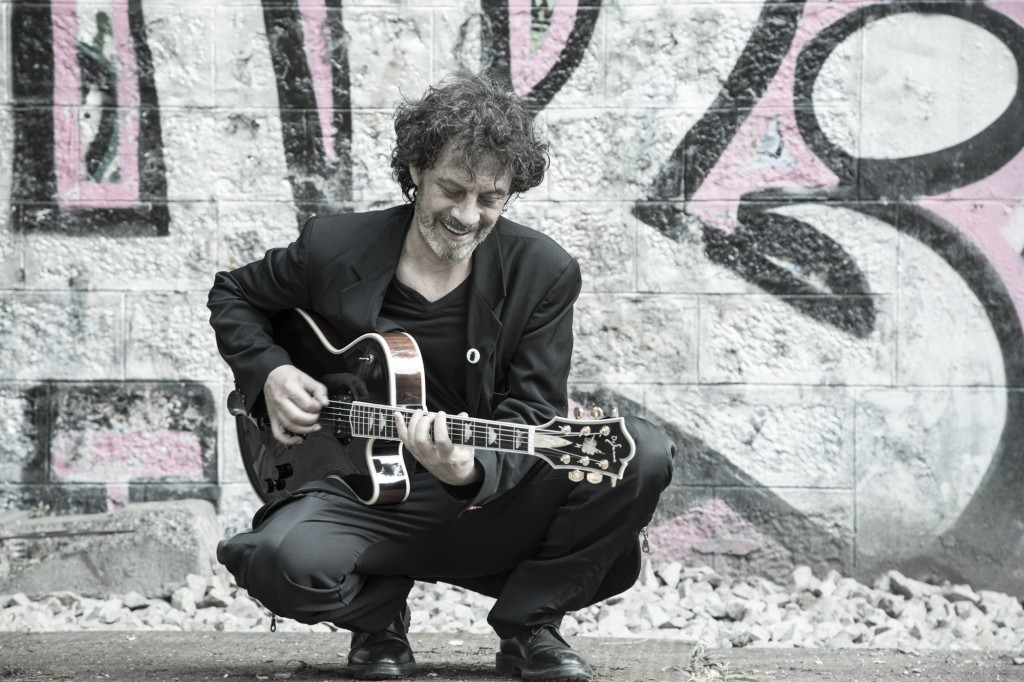 "His career is well known to us, from his astounding beginnings in Buenos Aires, in 1976, where his incredible virtuosity made him a star at 18 years old, followed by his arrival in France just one year later, playing alongside Astor Piazzolla. We then followed him in his encounters with the greatest European jazz musicans, we discovered him as a conductor, we learnt that he was a composer for orchestras all over the world, as well as for cinema and dance.
All these experiences feed his current concerts where we find a mix of sophisticated writing and explosive improvisation. The inventive marrying of challenging "chamber pop music" and rejuvenated, lively and irreverent rock.
Surrounded by musicians without equal, whether he plays in a sextet or in a trio, his creations in the Théatre de la Ville (Paris, France) show that we can leave aside genres and categories and prove in this manner that there is really only "Tomás Gubitsch music", to put it quite simply. 
Even though Tomás is considered one of the authorities and leading lights of contemporary tango, his musical universe soars above all these forms of regionalism. This is illustrated by the brand new trio "Surel, Segal & Gubitsch", which is as rich, as unpredictable and as unclassifiable, as the careers of the three virtuosos who form the group."
Tomás Gubitsch is born in 1957 in Buenos Aires.
Aged 17 years old, he is a virtuoso of the guitar and becomes a "rock star" in Argentina where the concerts of the group Invisible– with Luis Alberto Spinetta- bring together more than 12000 spectators.
At the same time as this, he joins contemporary tango groups with Rodolfo Mederos. Tomás is only 19 years old and Argentina is in the grip of its totalitarian period when Astor Piazzolla asks him to join his group for his European tour in 1977. At the end of the tour, the historic circumstances in Argentina make Gubitsch decide to stay in Paris, where he studies and plays with Gustavo Beytelmann, and with, amongst others, Juan José Mosalini on the bandoneon – he records the album "Tango Rojo". In 1980 Tomás begins to play concerts and record in his own name. His records, especially those with the Gubitsch Calo duo, and then those with the Tomás Gubitsch Trio, were regularly awarded the highest honours in the specialized press. He took part in many tours, with these groups, playing in international festivals and concerts for over 15 years. Apart from this long collaboration with Osvalo Calo et Jean Paul Celea, he records and composes on about fifty albums with, amongst others:
Stéphane Grapelli, Michel Portal, Steve Lacy, Glenn Ferris, Jean-François Jenny-Clark, etc., for all that European jazz. ,
Pierre Akéndéngué, Mino Cinélu, Nana Vasconcelos and David Dorantes, for the aspect "world music".
Luc Ferrari and Jean Schwarz, for all that is linked to contemporary music.
His activities as an arranger and composer brought him into contact with the soloists of the Opéra de Paris, l'Orchestre de Bretagne, l'Orchestre de Rouen, l'Orchestre National de Sofia, New Japan Philarmonic Orchestra, l'Orchestre Philharmonique de Liège, Chamber Orchestra Musica Vitae (Sweden), etc.
His Concerto for Trio and Orchestra – commissioned by the French State – was the principal subject of Dialogos, a film made by Frank Cassenti, showing Tomás Gubitsch's career and broadcast on France 3, the French national television channel.
Without abandoning pure musical creation, he also works with cross disciplinary forms of expression, and has begun composing for the theatre, dance and cinema.
Tomás decides at this point to stop working as a guitarist to be able to dedicate himself entirely to compositional and orchestral work. An original experience, SANS CESSE,- "an improbable ballet opera" as Gubitsch likes to describe it- was created with about fifity unemployed people in the main roles. Conceived in collaboration wth the choreographer Didier Silhol the show brought together more than 100 people on stage (with among others the Ensemble Orchestre de Basse Normandie under the direction of Dominique Debart, the Quator Cenoman and Sax 4, soloists from the universe of jazz and rock and a brass ensemble from the ENM of Mans.
The CD Sans cesse (suite… – the product of the previously described event- as well as Songs of Innocence got top reviews from Jazzman, Le Monde de la Musique and also from Telerama.
Amongst these compositions, there are, for example, Concerto for "4 Contrebasses et Ensemble" (commissioned by France and created in Caen last year), or "Distances" (pour soprano sax et orchestra) created in October 2001. There is also a series of chamber music pieces using the saxophone – "Igen", "Monodrame, triptyque en 5 mouvements. Et plus si affinité", etc. Commissioned by the CNR in Nancy. "Au lieux dit, la mi-temps" – a piece, the principle of which is that the musical composition and the dance simultaneously structure the choreography – conceived with Didier Silhol and created and premiered at the Dance Biennale of Val de Marne, and the "Cacerolazo Concerto" for the bandoneon, guitar and string quintet (world premiere at the Rheinisches Musikfest), "Preludio para la siesta de un fauno (revisited)" – creation in 2009 in "Villa Ocampo", Buenos Aires-, "Ecos de la ciudad herida" (double concerto for electric guitar, bandoneon and orchestra) —creation 2010 in Liège, Belgium—, "In a tango state of mind" (concerto for accordion and string orchestra-) – creation 2011 in Växjö, Sweden- , "Rumeurs", for a hundred instruments (commissioned by the CRR of Strasbourg), etc.
Finally, he gets back to the guitar again… or perhaps its the guitar that gets back to him … Tomás records with Osvaldo Calo, Juanjo Mosalini, Sébastien Couranjou and Eric Chalan the CD + DVD "5" Le Chant du Monde • Harmonia Mundi).
2012 : his new album "Itaca" comes out, and he still plays the pieces from this album on stage with his trio Eric Chalan, (double bass) Juanjo Mosalini (bandoneon) and Gubitsch (electric guitar) – and the creation of his new piece with a sextet "Le Tango d'Ulysee" (created in 2012 in Théatre de la Ville.)
In 2014, he returns to Theatre de la Ville to present the central part of his odyssean triptych " Todos los sueños, el sueño", sharing the stage with his sextet are his habitual accomplices: Juanjo Mosalini and Eric Chalan. They are joined by three soloists from the classical universe (but not just the classical universe…)  Sébastien Surel(violin), Marc Desmons (viola) and Lionel Allemand (cello).
Also in 2014 a completely unclassifiable trio appears: "Surel, Segal & Gubitsch". Three individuals as unique as Sebastien, Vincent and Tomas, brought together as much by their common musical territories as by their differences and their unique features.
Their songbook, essentially their own pieces, also gives space to other versions of pieces by, amongst others, Hermeto Pascoal, Thelonius Monk or Charlie Chaplin.
The second season (2014/2015) of Gubitsch's Artist in Residency in the Theatre des Bergeries, in Noisy le Sec will be dedicated to the creation of a new show by these three virtuosos.